The Spa At The Park
An East Bay Oasis For European Spa Serenity
Inspired by the ancient rituals of European spas, The Spa at The Park promotes well-being through a holistic approach that rejuvenates the mind, body and spirit. Begin your journey within our secluded Lafayette spa, renowned for its bygone pleasures and scenic French countryside setting. Escape to our beautiful poolside oasis to sample our full menu of signature massages, facials and body treatments. Work out at our state-of-the-art fitness center. Soak in our whirlpool tub. You'll soon discover why locals consider this the best day spa in San Francisco East Bay.
Allow our Lafayette spa professional wellness experts to cater to your comfort and customized goals in a soothing atmosphere designed to transform your sense of well-being, both inside and out. Sophisticated and welcoming, The Spa at The Park invites you to unwind in seclusion and re-enter the outside world restored and refreshed – with a calm mind and re-energized body.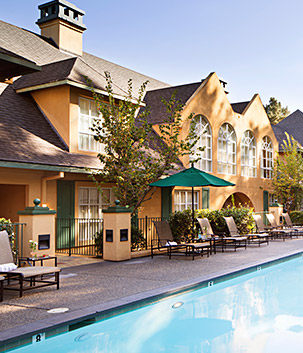 Spa Hours
Sun-Wed: 9am - 6pm
Thur-Sat: 9am - 8pm
Note: Hours are subject to change seasonally
For spa reservations,
please call 925-299-4334
Spa Treatments
With an array of specialty massages, facials, exfoliation treatments, and body wraps, the Spa at the Park is truly the best day spa the East Bay has to offer. No matter what ails you, our expert staff will help you find your center with our luxury spa treatments.
Signature Treatments
80 minutes - $175
Our most popular treatment combines the use of heated basalt stones and chilled marble applied to the body for an unforgettable experience. The dual temperatures work with the blood flow, cleansing vital organs.
50 minutes - $130 | 80 minutes - $175
Soothing massage with aromatic essential oils to guide you to the ultimate relaxed state.
50 minutes - $245 | 80 minutes - $335
Enjoy massage therapy together amidst romantic candlelight and finish with a special treat.
Specialty Treatments
50 minutes - $115 | 80 minutes - $160
Based on the Swedish massage technique, this treatment will relax tense muscles, detoxify the body and rejuvenate the mind.
50 minutes - $130 | 80 minutes - $175
Designed to target specific areas of tension, limited range of motion and eliminate muscle pain. Moderate to deep pressure is applied.
50 minutes - $130 | 80 minutes $175
Our therapists utilize their expertise to target specific areas, such as muscle tension, fatigue, soreness, limited range of motion, stress and anxiety. Advanced techniques include acupressure, lymphatic drainage, cranial sacral and reflexology.
50 minutes - $130 | 80 minutes - $175
The gentle, non-invasive approach of pregnancy massage can ease your discomfort. This side-lying, full-body massage will bring back a sense of body-mind integration, putting you into a state of relaxation and calm acceptance of your continually evolving physiology. (Please consult your doctor prior to scheduling your appointment.)
BODY WRAPS & EXFOLIATIONS
50 minutes - $130 | 80 minutes - $175
This treatment provides a three-tiered passage to beautiful skin and deep relaxation. Begin with an exfoliating dry brush massage that stimulates the lymphatic system. The skin will then be moisturized and replenished with a flower essence massage, followed by a warm, blissful wrap.
80 minutes - $175
A unique contouring system that targets toxins, cellulite, the metabolic system, weight loss and firming. Begin with a towel steaming, a gentle body scrub, a wrap of creamy clay and then the perfect ending – a contouring massage using essential oils.
50 minutes - $130 | 80 minutes - $175
Your session begins with a dry brush exfoliation to stimulate the lymphatic system and blood flow throughout your body. Continue with a vanilla fig shea butter massage and then relax in a deeply hydrating wrap.
50 minutes - $130
An uplifting blossom scrub that gently exfoliates the body using softly honed walnut shells and apricot kernels to refresh your skin and spirit. For all skin types. Includes a massage with hydrating lotion.
50 minutes - $130
Ayurvedic oil blend mixed with organic brown sugar contains natural fatty acids that help feed the skin's surface, leaving healthy and visibly radiant skin. Followed by a massage with organic oils and lotion.
50 minutes - $130
This treatment is great for exfoliating dead skin cells, hydrating and moisturizing your skin. Salt brings oxygenated blood to the surface allowing the infused oils of the body butter massage to hydrate your skin.
$25 add-on
Revitalize and nourish dull, stressed, chemically treated hair. Great for psoriasis and eczema. *Must be done in conjunction with any body treatment or facial.
FACIALS & ADD-ON ENHANCEMENTS
50 minutes - $120
A customized and deeply relaxing facial that contains nourishing vitamins and antioxidants restores a state of balance to the skin. Selected pure essential oils and plant extracts of flowers, fruits and herbs are applied to the skin. Available for all skin types.
80 minutes - $165
This treatment is for tired, environmentally-exposed skin. Revitalize circulation and feed the skin essential nutrients with firming collagen and elastin for an instant return of vitality and youth. Recommended for deeply dehydrated, sun-damaged or sensitive skin.
80 minutes - $165
This therapeutic treatment helps to lift and firm the skin by stimulating repair at the cellular level. Your deep cleansing is followed by an enzyme exfoliant and two herbal protein masks to draw out impurities, while improving skin tone. This results-oriented treatment is beneficial for all skin types.
80 minutes - $165
Vitamin C, alpha and beta hydroxyl acids and gentle yet effective enzymes speed up cellular turnover. Lightening, tightening, and brightening for all skin types.
80 minutes - $175
The "crème de la crème" of facial treatments combines science and nature for extraordinary results. A manual microdermabrasion is used to gently resurface the skin and a diamond or nano gold collagen masque is applied to lift, tighten, and diminish lines.
50 minutes - $120
Acid peels take your skin to the next level by exfoliating damaged skin, lightening sun damage and hyperpigmentation, increasing hydration, and treating active acne and acneic scarring. A soothing masque and sunscreen follow the treatment.
50 minutes - $120 | 80 minutes - $165
This treatment includes deep cleansing of clogged pores and ingrown hairs, steaming, and exfoliation. A face, neck, scalp, and shoulder massage follows for relieving stress and encouraging skin rejuvenation. A treatment masque is applied to refine pores.
50 minutes - $120
This gentle facial will keep young skin looking its best, while helping to instill good skincare habits. The skin will be cleaned, purified and nourished. This treatment can be customized for acne-prone skin.
$25 add-on
Puffy eyes are diminished as a pure ginkgo biloba masque penetrates into the delicate eye area. Recommended for travelers, and those with allergies or fatigued eyes.
$25 add-on
An anti-aging treatment designed to smooth the lines around the mouth. Collagen and elastin are applied to rejuvenate and revitalize the lip area.
$25 add-on
Collagen nano gold repair for firmer, brighter skin or diamond radiance for age defying luminous skin. *May be added to our 50-minute Signature Provence Facial
$25 add-on
Customize and optimize your facial with one of our concentrated stem cell enhancers for maximum results.
$25 add-on
Improves skin tone, firmness and elasticity and stimulates cell renewal. Reduces appearance of fine lines and leaves skin revitalized.
$25 add-on
Revitalize and nourish dull, stressed, chemically treated hair. Great for psoriasis and eczema. *Must be done in conjunction with any body treatment or facial.
Lip - $15 | Chin - $15 | Brows - $30 | Bikini - from $35
PACKAGES & SPECIALS
Build your own spa day
Create your own special package with the treatments you want to relax your body and mind. Package discounts are per person and for treatments 30 minutes or longer.
Seasonal Midweek Special
Monday - Thursday, November through April $105 for any 50 Minute Treatment and $145 for any 80 minute treatment. Add $10 for Deep Tissue, Wishing Well Massage, and Microderm Collagen Facial.
Two hours - $205
Sneak away to pamper yourself with a 50-minute relaxing Park Classic Massage and our Signature Provence Facial.
Two hours and lunch - $465
Come enjoy a day of leisure at the Spa at the Park. This package includes a Signature Provence Facial and 50-minute Park Classic Massage each for two, as well as a delicious poolside lunch.
Three hours and lunch - $340
Start your day with a 30-minute full-body rejuvenating blossom exfoliation, followed by a 50-minute enriching aromatherapy massage. We will serve you a delicious spa luncheon and your day will end with an 80-minute facial of your choice.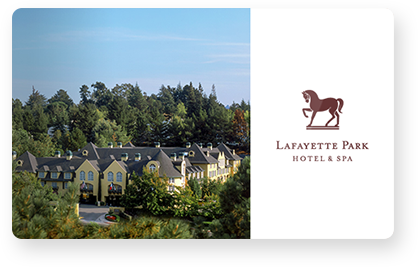 Gift Cards

Give the Gift of Well-Being

Give the priceless gift of tranquility, well-being, and peace, with an indulgent spa day at Lafayette Park Spa. Both our e-gift cards and traditional gift cards are valid at the Lafayette Park Hotel, The Spa at The Park, The Park Bistro & Bar, and at all participating Woodside hotels, restaurants, and spas.

Purchase
Our Spa Policies
ARRIVAL
Please arrive at least fifteen minutes prior to your appointment so you may take advantage of our relaxation facilities. Appointments begin promptly at the time scheduled. Should you arrive late, your treatment may be shortened so that the technician will be on time for the next guest.
CLOTHING
We provide a robe, slippers and private lockers during your visit. You will be draped during your treatment and undergarments may be worn if preferred. Please remove all jewelry before coming to the spa.
AILMENTS
Please alert us if you have any medical conditions or are presently under a physician's care. Conditions such as pregnancy, high blood pressure and heart conditions are of special interest to our spa professionals. We will customize our services to fit your needs whenever possible.
RESERVATIONS
Please call 925-299-4334 to schedule a treatment. Due to limited availability, we highly recommend that you schedule your treatments in advance. Please be advised that all prices are subject to change.
CANCELLATIONS
If it is necessary to change or cancel your appointment, please notify us 24 hours in advance to avoid a charge equal to 50% of the spa treatment price.
GRATUITIES
Gratuities are at the guest's discretion and appreciated by the staff for outstanding service. An amount of 15-20% is customary.